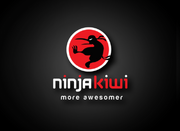 Ninja Kiwi
, also known as
Kaiparasoft Limited
, is a gaming company based in the city of of Auckland, New Zealand. "NK", as it is often called, focuses primarily on creating free Flash Games on the internet, notably the
SAS: Zombie Assault
and
Bloons
series of games.
History
Ninja Kiwi was first founded in 2006 by the brothers Chris and Stephen Harris in Auckland, New Zealand. They began developing flash games in a spare bedroom with both brothers working part time.
In 2007, they released one of their earliest popular games, Bloons, the predecessor to the many other games in the Bloons series. In 2008, they released the first game in a new popular game series, SAS: Zombie Assault.
The company is still based in Auckland, New Zealand, and currently employs 15 people working full time.
SAS: Zombie Assault Series
The following is a complete list of publications by Ninja Kiwi as a part of the SAS: Zombie Assault series.
Staff
The founders of Ninjakiwi of New Zealand are Chris and Stephen Harris. NK currently employs 15 people. Often times, the staff will be seen interacting with users on their community message boards and blogs. Here is a list of some of the staff by their online aliases:
Chris Harris
Stephen Harris
Jonathan
Aaron
Libertebelle
Catt
Matt
Lachlan
Bottleopener
Logan
Richard Ninjakiwi
Scott Ninjakiwi
Tosh
NK_Nutter
Spool
Eliket
Sam NK (who is mostly on mobile version of SAS 4)