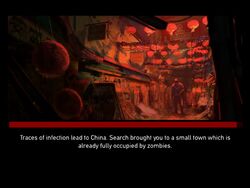 China Town is the first map in the Asia region of SAS: Zombie Assault 3. It can be unlocked at Rank 20, and is a downloadable map.
Layout
China Town takes place in a crowded commercial district with various dragon props lying on the ground; the map is quite large with various narrow corridors and rooms. Zombies will spawn out of uncovered manholes on both sides of the map. The center courtyard is a wide enough area for players to hold off zombies until Burrowers start to crowd the area.
Difficulty
The amount of room is sufficient but not ideal when dealing with Devastators, Burrowers and Shadows. Stay mobile and avoid being cornered at all times.